Coco Hot-Choco

Sewn on

September 29 (National Coffee Day)

Sewn from

Stuff from a cofee shop

Personality

Warm and cozy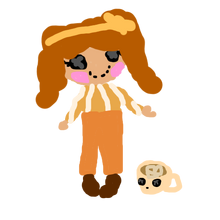 Coco loves Hot Chocolate! She is sew sweet that she has two sweet teeth.
Appearance
Coco has softer hair than Mittens Fluff N' Stuff. everything she wears on the image is light brown except for the shoes. They are dark brown.
Personality
Her simple personality is Warm and Cozy. Coco Hot-Choco keeps people warm. She even has her own yule log at her shop! (Which walls match Coco's shirt) She has a younger brother named Loco Sweet-Choco
Pet
A beige coffee cup that tries to make a heart.
Trivia
Coco was going to be Fair-Skinned
The base I used for the doll is Berry Jars N' Jam
Coco was going to have a casual theme.
Ad blocker interference detected!
Wikia is a free-to-use site that makes money from advertising. We have a modified experience for viewers using ad blockers

Wikia is not accessible if you've made further modifications. Remove the custom ad blocker rule(s) and the page will load as expected.