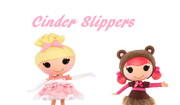 Cinder Slippers is the 6th episode of The New Adventures of Teddy the Pooh
Plot
Teddy tells the viewers a story about Cinder Slippers.
It all started out when Cinder was born to a rich family. Her father was kind and loving, but when he remarried, she realized that her new stepmother and stepsister were very mean to her. One day, she found an old wardrobe belonging to her stepmother. She decided to wear the nice, pretty clothing that her stepmother used to wear, hoping that she wouldn't mind. Years later, Cinder had grown up and had become a beautiful, talented, intelligent young princess. In the third grade, she meets two girls named Jewel Sparkles and Pix E. Flutters and their friends Ivory Ice Crystals, Tippy Tumblelina, Suzette La Sweet and Lady Stillwaiting. She befriends them and they do fun activities together, such as going on shopping sprees, having picnics, and hosting fashion shows. Once they got to 5th grade, they saw Gabi Tess, Mary D. Smoke and Gloomy Pink Bow, Jewel suggested that they would pick on them, but Cinder said no. Jewel didn't listen and decided to torture them anyway. Jewel steals Mary's candy, Pix E. and Ivory torment Gabi, and Tippy, Lady, and Suzette insist that Cinder should swipe Gloomy's tail. Cinder says, "No! I will not swipe her tail. Why is it that you want to torment these poor girls all of a sudden? They didn't do anything wrong to any of you, and they don't deserve to be bullied. A real princess must show kindness and tolerance, and she should never be mean to her friends. You are doing what is wrong. Please do what is right in your hearts." 
The next day, Cinder and her classmates are tormented. They insist Cinder to tell on them, but she does not want to be a tattletale, but then, she looks at the other girls and they are bullying Julie. Cinder walks up to them, and being the gentle princess she is, politely asks them to stop. She reminds them of what she told them before, and they realize their mistake. They let Julie go, and they apologize to Cinder for being so mean. She makes up with her friends and they promise her that they won't be mean anymore.
Teddy says to this day, Cinder and her friends are no longer bullies and are more kind and caring than they were before. 
Cast
Cinder Slippers
Teddy Honey Pots
Gloomy Pink Bow
Jewel Sparkles
Pix.E Flutters
Ivory Ice Crystals
Tippy Tumbelina
Suzette La Sweet
Fran Mill
Trivia
It is unknown how Lady became a bully, as she never bullied anyone in later episodes. 
Ad blocker interference detected!
Wikia is a free-to-use site that makes money from advertising. We have a modified experience for viewers using ad blockers

Wikia is not accessible if you've made further modifications. Remove the custom ad blocker rule(s) and the page will load as expected.