Chill Lee Zee is now here and ready to warm up to friends. She was living in a cabin until she went to fish and fell in the water, only to wake up in Lalaloopsy Land!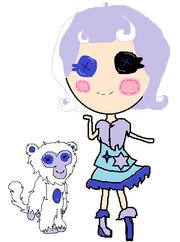 Personality
Chill Lee is quite loud. She is always running around Lalaloopsy Land and blurting random in-understandable words at others. Her friends believe she lost her mind upon falling on the ice then crashing through water too hard, but Chill Lee knows where she is from, though she doesn't tell others. She is loud, but nice and sweet towards others.
Appearance
Chill Lee has fair skin and different colored eyes, one dark blue and the other black.Her cheeks are pink with red stitching. Her hairstyle is the short flip hairstyle, and has two colors to it, one lavender and the other white, lavender dominating the white. She wears a sleeveless baby blue dress with a lavender fur along the neck area, and a lavender six pointed and dark blue four pointed star decorating the dress. The dress has two layer, both baby blue and the bottom half goes to her thighs, with fur along the hem of the bottom half. Her boots have fur along the top and the bottom has a wedge. Her right is blue with lavender fur and a lavender wedge, the other boot vice versa.
Pet
Her pet is a mix between a monkey and a Yeti. She has white fur, a tail, a lavender face, hands, feet, and belly button. Her eyes, ears, and stomach are dark blue. Chill Lee is deciding to name her Meti.
House
Chill Lee's home is just like her old one. It is a cabin made of Birch Wood, but now Lala Birch Wood. The bottom is a rectangle, and the roof is flat. She has a chimney and the house is two floored.
Trivia
She was sewn from Yeti fur, and her sewn-on date is December 21st, the first day of Winter.
Her name is meant to sound like "Chillies"
She is in a story called "I'm Warm Now"
Ad blocker interference detected!
Wikia is a free-to-use site that makes money from advertising. We have a modified experience for viewers using ad blockers

Wikia is not accessible if you've made further modifications. Remove the custom ad blocker rule(s) and the page will load as expected.