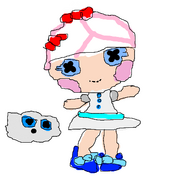 Chill E. SkySewn From A Hot Air BalloonSewn On October 4-12 Albuqurque Balloon Fesival 2014Pet:CloudPersonality: Chill E. is the leader of her school's bird watching group. She loves cloud watching and flying, but she doesn't have wings!
Apperance
Chille E. is a fair skinned girl with light pink cheeks and blue eyes. Chill E.'s hair is in the style of Trinket Sparkles. She has white and pink hair. Her dress is light gray. Her sleeves are short, poofy and Dark gray, Has buttons in the color of blue, and an aqua belt. Her shoes are also in the style of Trinket Sparkles. They have Blue and Aqua on it.
Pet
A cloud with blue eyes as well.
Home
Chill E. Lives with her sister in a floating house almost similiar to Pillow and Smile E.'s houses.
Trivia
Chill E. was sewn for 8 days, so she may be the oldest Lalaloopsy Doll.
Chill E. is the Second Little and Fourth Doll with Multicolored Hair. Her sister has "Spray Paint." 
Chill E. got her name because the sky when it is chilly.