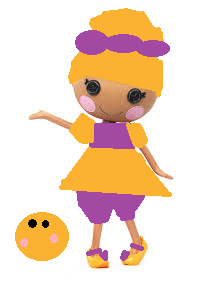 Appearance
Chicken Dunk 'N' Nuggets is a dark skinned girl with golden yellow hair in a ponytail, a gold and purple dress, and gold and purple shoes.
Pet
Her pet is a golden chicken nugget.
Trivia
August 12th is National Chicken Nugget Eating Day.
She is a recolor of Sahara Mirage
Her clothes look like a Chicken McNugget box from McDonald's.
Friends
Fries Curls 'N' Crinkles
Patty Burgers 'N' Buns
Pepper Pots 'N' Pans
Pickles B.L.T
Ad blocker interference detected!
Wikia is a free-to-use site that makes money from advertising. We have a modified experience for viewers using ad blockers

Wikia is not accessible if you've made further modifications. Remove the custom ad blocker rule(s) and the page will load as expected.