Introduction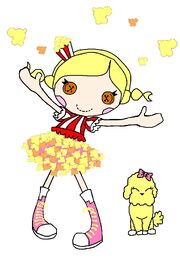 Name: Caramel Pop'N'Good
Sewn On: December 11th
Sewn From: A Caramel Corn Bag
Personality
Caramel Pop'N'Good is funny and hyper. She is an entertainer by heart and enjoys having friends around. When she makes pop corn she never leaves a kernel un-popped and every bag is better shared so the more friends the merrier.
Appearance
Skin: Fair
Eyes: Brown like caramel
Hair Color: Yellow like buttery pop corn unlike any other lalaloopsy hair color.
Hair Mold: Unique with 2 twisty pony tails on each side of her head sticking out horizontally. It is bunched up at the back and held in place by a head band.
Hair Accessories: A yellow head band that matches and blends into her hair perfectly and holds her hair up at the back connected to this head band is a decorative box of pop corn to complete her pop corn look.
Torso: Is in the style of an upside down box of popcorn with frills. It is colored with red and white stripes.
Bottom: She wears a skirt in the style of spilt pop corn but luckily they are attached by threads to a pink under skirt.
Shoes pink and white high tops with yellow butter colored laces
Home
Roof: Made of a mixture of buttery caramel pop corn with pink trims around the roof.
Walls: Painted red and white stripped like a pop corn box
Door: The door is red like nearlly all lalaloopsy houses
Windows: Have pink shutters and the rims are decorated with different colored pop corn kernels
Trivia
Caramel Pop'N'Good was once a rag doll that magically came to life when her last stitch was sewn.
Sewn the day of the great corn pop when a large kernel of corn dries in the intense heat of the sun on the hottest day of the year December 11th.
She has a totally unique hair style unlike any of the other lalaloopsy girls and boys.
Her Best Friends are Peanut Big Top and Confetti Carnivale
If you haven't already guessed this character was created around one of the greatest snacks ever Pop Corn. But being that I like both Butter pop corn and caramel corn I have decided to make her butter and caramel.
Pet
Pup Corn: A buttery pup that looks like Pop Corn. Named after her favorite puppy treat that tastes like pop corn.
Ad blocker interference detected!
Wikia is a free-to-use site that makes money from advertising. We have a modified experience for viewers using ad blockers

Wikia is not accessible if you've made further modifications. Remove the custom ad blocker rule(s) and the page will load as expected.