Candy Stripes is a rock star.She was sewn on Decmember 31,Made from a hard candy her pet is a sheep.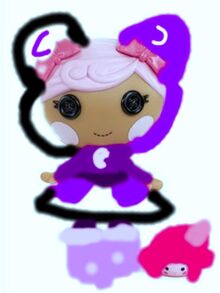 About Candy
Candy has dark purple stockings,a puple & white dress,pink,purple & white hair with the signal c for Candy.
Appernace
Well March 31 2017
Pet
She has a pink,light pink & hot pink sheep that looks like Whispy's.
Triva
She is a recolor of Whispy Sugar Puff.
She is Grapvine's little sister.