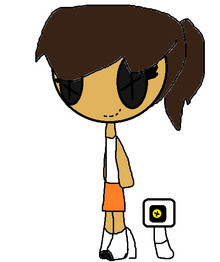 Name: Blast A. Portal
Sewn on: October 9 (Portal's anniversary.)
Sewn From: Aperture Science Uniform
Pet: Machine
Description: Blast A. Portal has a special gun that can make two portals! Her machine is a little bossy, but deep down she actually cares for her owner!
Trivia
She is based on the portal franchise.
She doesn't often speak, because she is based on the series' mute protagonist Chell.
Her machine is based on GLaDOS, the first game's antagonist.
Ad blocker interference detected!
Wikia is a free-to-use site that makes money from advertising. We have a modified experience for viewers using ad blockers

Wikia is not accessible if you've made further modifications. Remove the custom ad blocker rule(s) and the page will load as expected.